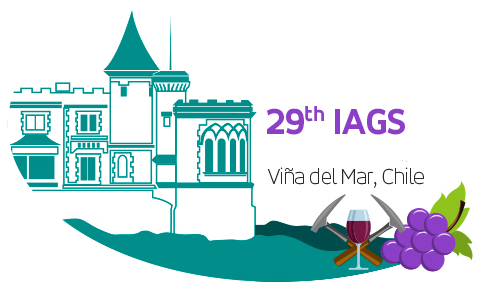 29th International Applied Geochemistry Symposium (IAGS)
Viña del Mar, Chile
October 23–28, 2022 
Download the circular here.
The 29th International Applied Geochemistry Symposium (IAGS) will be held in the "Garden City" of Viña del Mar, Chile in October 23-28, 2022. The city of Viña del Mar, in central Chile, is located 120 km northwest of the capital city of Chile, Santiago. It is a well-known tourist destination, famous for its beaches, the neighboring world heritage city of Valparaiso and abundant parks. The city lies west of the coastal cordillera in which wineries thrive among the valleys, together with other productive activities that include gold and base metal mining. The location of Viña del Mar provides easy access and represents a great starting point for pre- and post-conference activities, including field trips and social or tourist activities.
Chile is an easily accessed country. Its international airport is well connected world wide, and most nationalities do not require a visa for entry. The official language of Chile is Spanish, but the official conference language is English.
Information about the conference, venue, program, workshops, and pre- and post-conference field trips will provided soon.